Why every guy can nail this two minute skincare routine
Are you a beginner when it comes to skincare? Don't worry, we've locked down a super easy and effective 2-minute routine that will keep your skin looking fresh without the hassle.
Having a solid skin-care routine is the foundation of great grooming. Keeping your skin well-cared-for means fewer breakouts, less irritation, and redness as well as slowing down signs of aging within your skin. However, a complicated 10-step routine isn't always needed and especially for a beginner, can seem a bit daunting, therefore we're going to be sharing with you 4 easy steps that you should consider in your skincare regime.
1. WASH
The first step is a facial wash, this is one of the key steps within any skincare routine. Cleansing your skin is very important, morning and night; it helps to remove any toxins and oils from your skin, while also ensuring to remove any bacteria from any debris, sunscreens, previous products you have applied as well as from touching your face.
Bulldog Facial Wash £4.50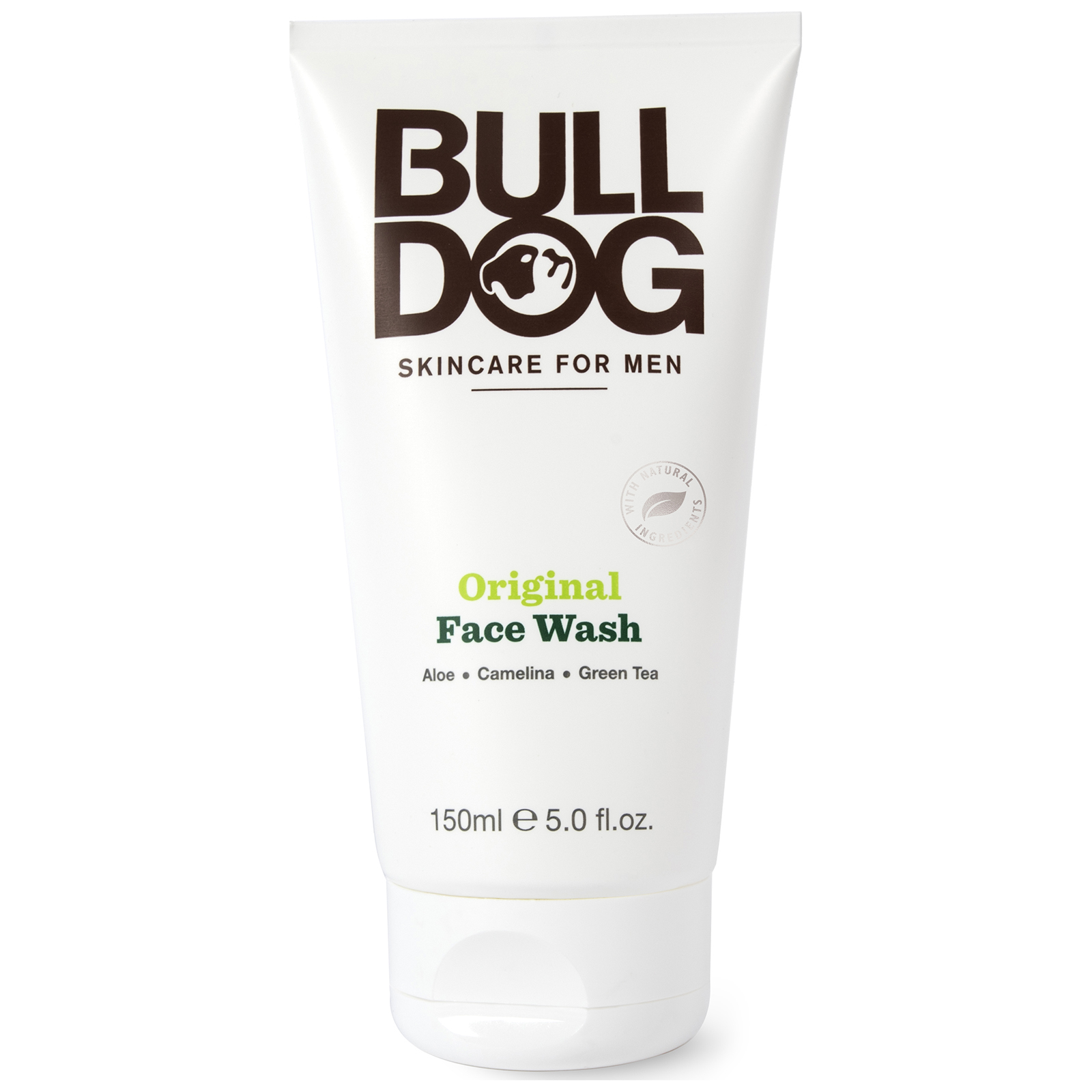 How to: Simply wet your face with lukewarm water, then place a pea sized amount of product on your fingertips. Rub your hands together a few times to help activate the lather, then work your hands all over your face in circular motions for around 20 seconds. After you have finished, splash your face with more lukewarm water until all is removed and simply just pat dry your face, do not rub!
Link to product: https://www.bulldogskincare.com/uk/shop/original-face-wash/
2. EXFOLIATE
The next step is more optional yet still important especially if you are a beginner to a skincare regime. That is a facial scrub, this is only usually recommended and required to use around twice a week. We would recommend to use it once a week, to begin with, and then slowly work up to twice a week; this is due to facial scrubs being slightly harsher on your skin than the usual wash. However, it is very vital when it comes to helping breakdown any remaining dirt, removing any dry skin cells, cleansing pores, and helps long-term within the benefits of the look and feel of your skin.
Nivea Men Exfoliating Face Scrub £4.99

How to: Make sure to apply after your face wash. Start off by wetting your face with lukewarm water, then place a nickel-sized amount of product on your fingertips. Rub your hands together to activate the product then simply work your hands all over your face in circular motions for no longer than 10 seconds, making sure to focus mainly on your T-zone area (nose, forehead, and chin). To finish, just rinse off with warm water until all is removed.
Link to product: https://www.boots.com/nivea-men-original-exfoliating-face-scrub-75ml-10087142?cm_mmc=bmm-buk-google-ppc-_-PLAs-_-(GB:Whoop!)+Nivea-_-(GB:Whoop!)+Boots+Shopping+-+Category+-+Toiletries+-+Desktop&gclid=Cj0KCQiA5bz-BRD-ARIsABjT4nhr7UjUDmcTSfmdIA3RhlRVZReSxpLgvBDX8bdal7H3oi84D4cKbkkaAjIBEALw_wcB&gclsrc=aw.ds
3. MOISTURISE
The last essential step with any skincare routine is a great moisturiser. Using a moisturiser overall helps to reduce any possible skin problems, some of which are reducing the chance of developing extreme dryness or oiliness on the skin; both of which can be harmful to the skin and result in many common skin conditions such as acne. Using a moisturiser also helps to keep your skin stay young, using an SPF based moisturiser in the day and a regular moisturiser at night is highly recommended.
CeraVe SPF 25 Facial Moisturiser (DAY) £13 &
Hawkins and Brimble Daily Energising moisturiser (NIGHT) £15

How to: Simply apply a pea-sized amount to your fingertips and then lightly massage in gentle upward strokes to your skin until all is absorbed.
Link to CeraVe: https://www.lookfantastic.com/cerave-facial-moisturising-lotion-spf-25-52ml/11798689.html?affil=thggpsad&switchcurrency=GBP&shippingcountry=GB&thg_ppc_campaign=71700000026979856&adtype=pla&product_id=11798689&gclid=Cj0KCQiA5bz-BRD-ARIsABjT4nhVhctTBIphrfScxBwWbm_K4FXojthNwKW6lSVmLcRFRRwtCouFOi4aAmmOEALw_wcB&gclsrc=aw.ds
Link to Hawkins & Brimble: https://www.hawkinsandbrimble.co.uk/collections/our-range/products/daily-energising-moisturiser
Now it's time to give this routine a go for yourself. Enjoy!
By Dannie Copperwheat