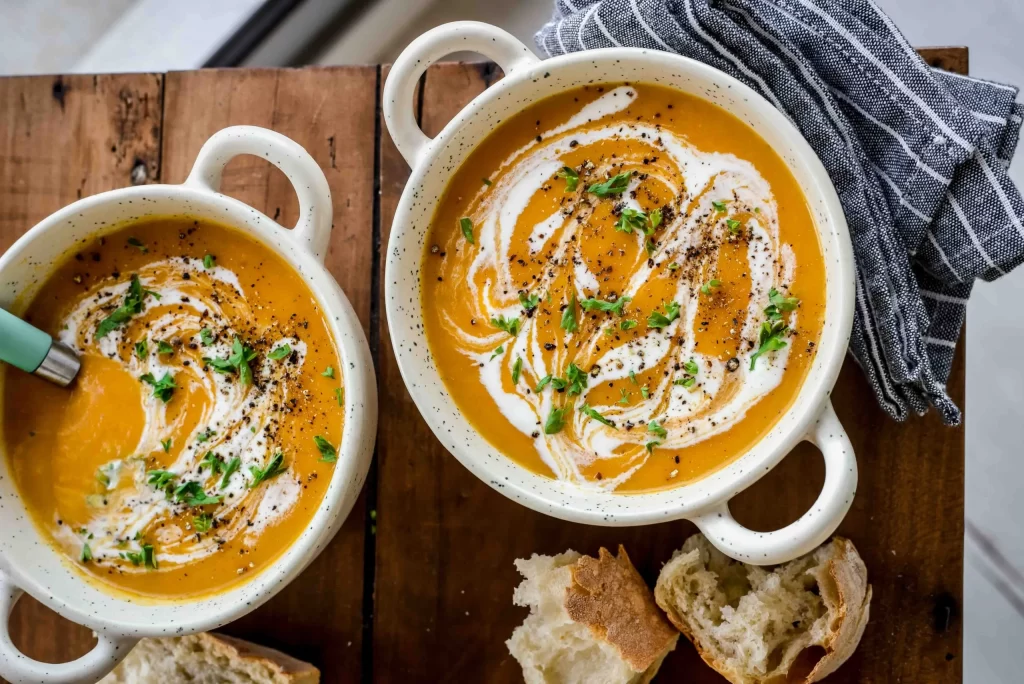 The sudden drop in temperature as we move through Autumn calls for a kick of heat. So what better way to enjoy a cozy night in than with a hot bowl of soup to warm you up. Here are some of our favourite homemade soup recipes to keep you warm in Autumn 2023 so far.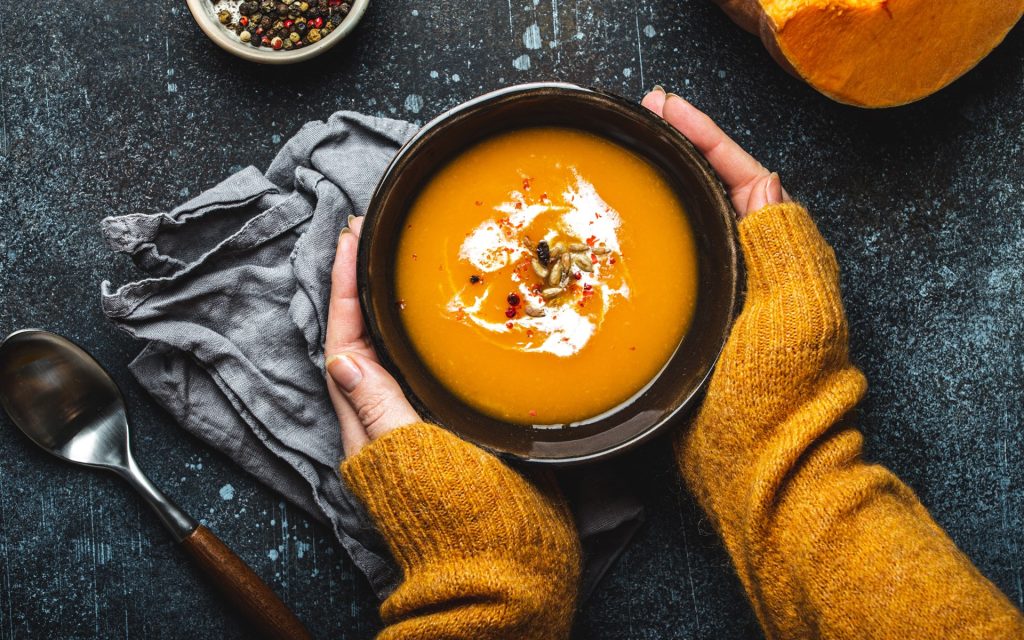 1. Pumpkin Soup
Ingredients
2 tbsp olive oil
2 onions, finely chopped
1kg pumpkin or squash (try kabocha), peeled, deseeded and chopped into chunks
700ml vegetable stock or chicken stock
150ml double cream

For the croutons
2 tbsp olive oil
4 slices wholemeal seeded bread, crusts removed
handful pumpkin seeds
Benefits
They're rich in vitamin A, pumpkins also lower your risk for certain types of cancer, including prostate and lung cancer.
Pumpkin soup is not only a wonderful option for anyone fighting indigestion and stomach infections.
Pumpkin is rich in potassium, which research suggests may help decrease blood pressure. In addition, pumpkin contains antioxidants, like vitamin C, which help promote healthy skin.
hey are rich in carotenoids, especially in lutein, alpha-carotene and beta-carotene, along with other vitamins and minerals.
It's full of the antioxidants, Vitamin A and Vitamin C, that both help to soften and soothe dry skin.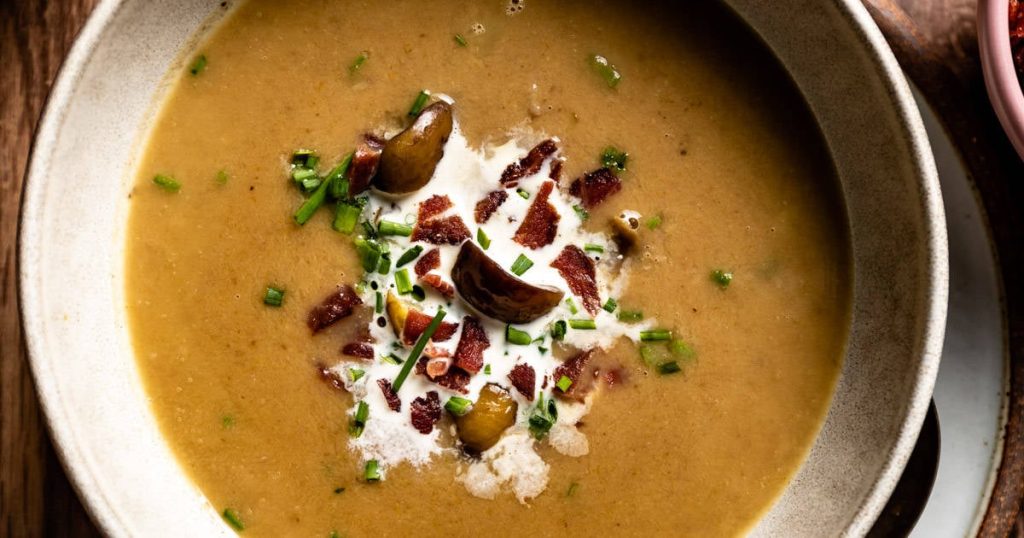 2. Chestnut, pancetta, and rosemary soup
Ingredients
125 grams butter
150 grams pancetta (or streaky bacon chopped)
1 carrot (peeled and chopped)
2 onions (finely chopped)
1 tin chestnuts (drained and rinsed – 750g tin)
1 tablespoon fresh rosemary (chopped)
2 bay leaves
2 cloves garlic (roughly chopped)
2 sprigs fresh rosemary (for garnish)
Benefits
Chestnuts are high in fiber, which offers various benefits for your health
It aids digestion, nourishes your beneficial gut bacteria, aids in the production of short-chain fatty acids, and may help with weight management.
Rosemary has significant antimicrobial, anti-inflammatory, anti-oxidant, anti-apoptotic, anti-tumorigenic, antinociceptive, and neuroprotective properties.
Offering a good amount of dietary protein, pancetta is rich in B vitamins and minerals like phosphorus and selenium. It has lower fat contents than other bacon products.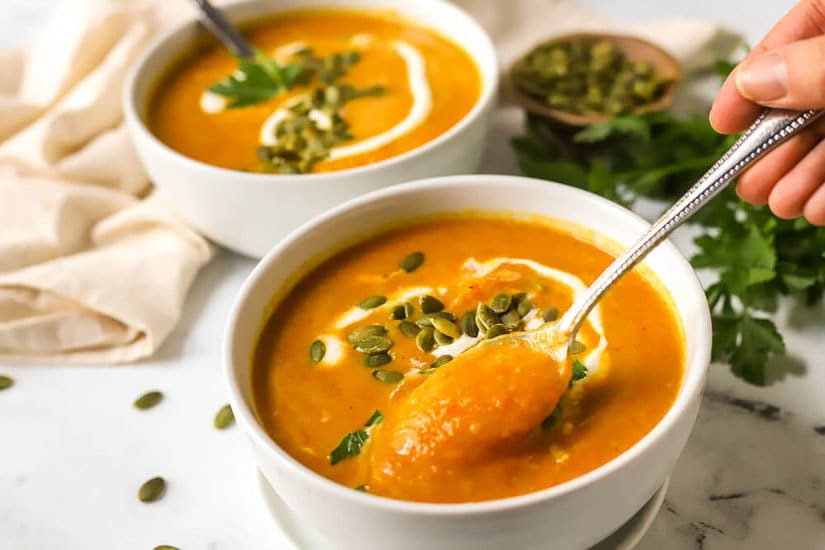 3. Lentil Soup
Ingredients
2l vegetable or ham stock
150g red lentils
6 carrots, finely chopped
2 medium leeks, sliced (about 300g)
small handful of chopped parsley, to serve
Benefits
Lentils have plenty of folate, iron and vitamin B1, which also support your heart health.
Reduces risk of certain chronic diseases.
Support the digestive system.
Lentils are good for your bones.
A ½ cup serving of cooked lentils provides about 12 grams of protein. With such high protein content, you are sure to be fuelled up all day long.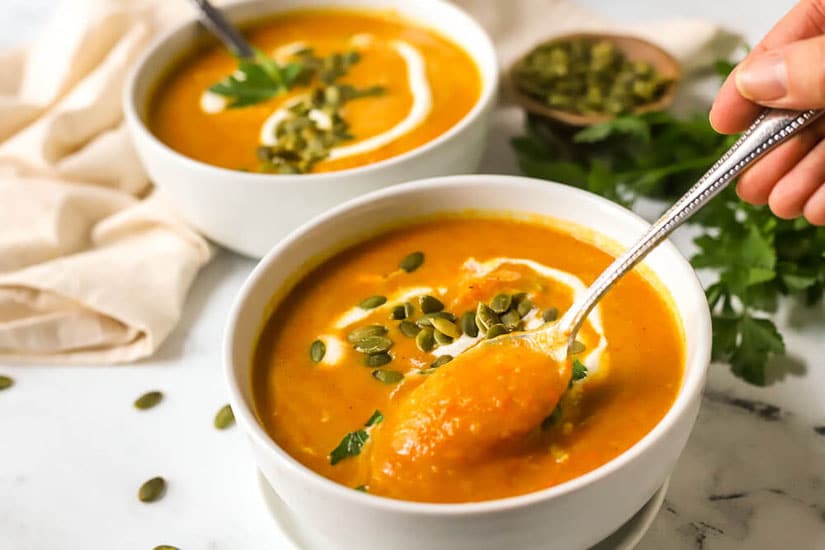 4. Carrot and Cauliflower Soup
Ingredients
2 tbsp olive oil, divided
1 medium yellow onion, diced
2 cloves garlic, minced
4 large carrots, chopped
½ medium head cauliflower, chopped
½ tsp ground turmeric
½ tsp ground cinnamon
4 cups low-sodium vegetable broth
¼ cup 2% fat plain Greek yogurt, divided
¼ cup dry-roasted pumpkin seeds, divided
⅛ tsp salt
Black pepper to taste
Benefits
high in vitamin C and a good source of folate.
fat free and cholesterol free and also is low in sodium content.
supports vision and eye health.
Vitamin A also regenerates damaged collagen, keeping your skin looking youthful and fresh.
help protect your heart, skin, brain and immune system while reducing inflammation.
Carrots are great sources of beta-carotene, which is a precursor to vitamin A and gives the vegetable its characteristic orange colour.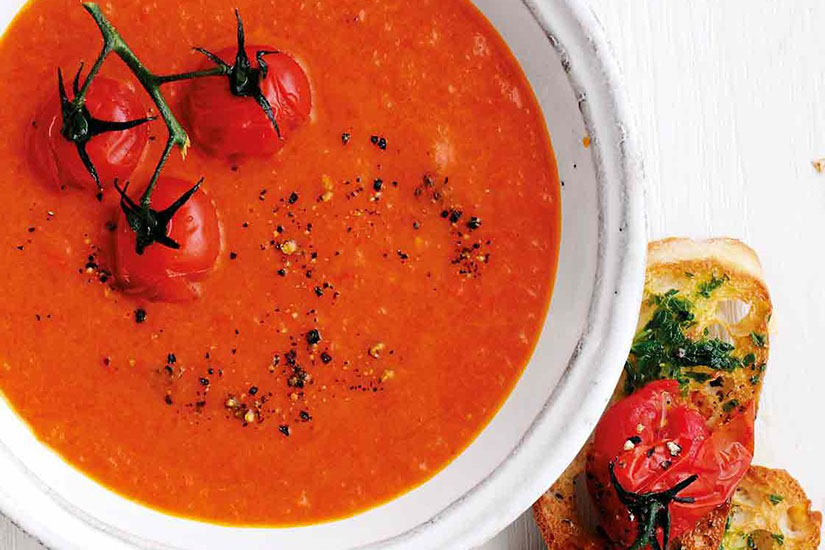 5. Tomato and red pepper soup
Ingredients
2 tbsp olive oil
1 onion, finely chopped
3 cloves garlic, sliced
750g tomatoes, chopped
2 roasted red peppers from a jar, drained and chopped
500ml vegetable stock
basil, a few leaves
crusty bread, to serve
Benefits
Rich in vitamins C and A, which provide 20% of the daily recommended value of vitamins.
Improves bone and cardiovascular health and aid in weight loss.
helps to control blood pressure, and keep it from getting ridiculously high or low.
chases away free radicals that could cause cancer.
A bowl of hot tomato soup may also soothe the throat and help clear out your airways.
By Dara Blackery